"I am interested in people and their motives—why they think and act the way they do. What makes someone a radical? Or a conservative? I focus on the nineteenth century because so much of what happened then has shaped the things we enjoy—and the things we complain about—today, especially in Great Britain."
Dr. Michael J. Turner completed his D.Phil. at Oxford. His research and teaching have focused on radicalism and other political movements in nineteenth-century Britain. His most recent book was a study of Bronterre O'Brien, the prominent Chartist. Dr. Turner is currently working on a project about British sympathy for the South during the American Civil War and Reconstruction.
Dr. Turner lives in Boone, North Carolina with his wife Catherine, their children, and Geordie the dog. Hobbies include reading, movies, rural hikes, and soccer. The Turners attend Alliance Bible Fellowship in Boone.
Education
D.Phil. University of Oxford
Areas of Study
European History, Modern British Political History and Foreign Policy
Selected Courses
HIS 4100 Britain's Age of Reform, 1760-1846
HIS 3148 The Making of British Democracy: Party and Politics, 1865-1951
HIS 3540 Britain's "REEL" History: Monarchy and People on Film
HIS 3510 Britain and the Great Powers, 1880s-1980s
HIS 5106 Victorian Britain: social and political discourse in the mid-19th century
HIS 5107 Research in British History
HIS 5106 Europe since 1715: A Political and Social History
Selected Publications, Papers, and Positions
Radicalism and Reputation: The Career of Bronterre O'Brien (Michigan State University Press, 2016).
"Defending 'the principle of representation': Andrew Bisset, Victorian Ideas, and the History of the Struggle for Parliamentary Government in England," Journal of Victorian Culture, 20 (2015): 531-48.
North American Conference on British Studies, November 13-15, 2015, Little Rock, Arkansas: Paper "Bronterre O'Brien and Money" in a session on Chartist Leaders and Ideas.
"Liberty" and "Liberticide": The Role of America in Nineteenth-Century British Radicalism (Rowman & Littlefield, 2013).
Fellow of the Royal Historical Society; Member of the Institute of Historical Research, the Southern Conference on British Studies, and Phi Alpha Theta.
Organizer/Convener, Annual Appalachian Lecture in British History and Rhinehart Postdoctoral Fellowship.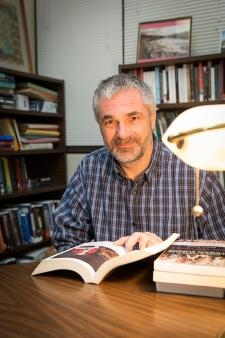 Title:

Roy Carroll Distinguished Professor of British History
Department:

Department of History

Email address: Email me

Phone: (828) 262-8102

Fax: (828) 262-4976
Office address
Anne Belk Hall 214A/214B