Students
History majors at Appalachian State University will learn the craft of history by practicing appropriate exercises that increase incrementally in difficulty and complexity from level to level.
Essential to this is the understanding that history is a discipline and a practice, not simply the acquisition of a body of knowledge. Nothing in the following outline of the craft of history is meant to suggest that students will not simultaneously acquire a vast knowledge of the content of history.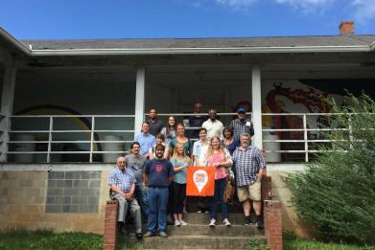 History is as much about process as it is about factual information. History is the study of change over time, of changing societies, of the causes of change, and of the results of change.
Pictured Right: Graduate students and local leaders photographed at Lincoln Heights, a Rosenwald School in North Wilkesboro, NC.
"History is vital to educating anyone. History is not social studies; it is the narrative of human experience. History embraces time, and no other discipline does that." – Nick Thimmesch, Los Angeles Times
At the heart of history is historical method. History involves locating, evaluating and using evidence to reconstruct and understand the past. It entails asking useful questions and being critical of the evidence found–are the sources genuine and, even if they are, is the information valid? Honest answers can still be wrong. Once the credibility of evidence is determined, information must be organized into a larger whole that can be clearly communicated.
In short, historians find evidence, evaluate it for authenticity and bias, establish its historical context, determine what it all means, and communicate their findings to others.
Pictured Left: Students learning about library resources.
"...advice for would-be stockbrokers: go to college and be a history major. Learn perspective. It's a valuable asset. In our business, you're assaulted daily and minute by minute with information. The problem is to sort through it and make long-term decisions based on short-term information." – Carol Kleiman, Chicago Tribune
Many professional-level jobs in business, industry, and government are filled by people who must use precisely these skills (e.g., analysts of all kinds, marketing specialists, managers, and of course detectives). Persons with historical training frequently have more aptitude for these jobs than others.
Two of our graduates (Carolyn Fisher, '07, and Diana Rafferty, '11) work at the Mob Museum in Las Vegas. Learn more about their work and what an Appalachian State History education has meant to them by visiting: https://today.appstate.edu/2016/07/04/mob-museum.