In June of 2018, Appalachian State University named Adam Moore ('18) as the Outstanding Student Teacher of the Year. Adam is a native of Kernersville, NC. During his time at App State he was active in both the History Dept. and the Reich College of Education throughout his four years in Boone. He was the recipient of the Steve & Judy James Scholarship and a member of the Appalachian Community of Education Scholars (ACES), a regular ambassador for History/Social Studies Education at Open House events, and a frequent attendee of our CLIO TALKS events.
Adam completed his student teaching at West Forsyth High School in Clemmons. For many years, he worked in youth development as a volunteer Scoutmaster for Boy Scout Troop 944 in Kernersville. He currently teaches social studies at his alma mater: East Forsyth High School.
---
How has ASU prepared you for a career in History/Social Studies Education?
Adam Moore: ASU's History Department and the Reich College of Education both provide deep, meaningful, and enriching studies that prepared me for a career in History/Social Studies Education. The faculty at ASU bring so much experience to the table that I could not help but soak up their continued wisdom and be inspired by their pasts. The faculty provided me with endless support and were always more than willing to meet to discuss anything I needed. I left ASU with a toolkit of resources, knowledge, and networks that I can use to make myself a more effective educator.
Why did you decide to become a History/Social Studies Educator?
AM: History/Social Studies Education was the major for me because I felt a need to help young people be able to have the knowledge and skills to be functional, intelligent citizens in our world. Working with a generation surrounded by constant streams of media, I feel it is my duty to give these young people the skills they need to find factual information, detect bias, and interpret sources. We live in a time where social studies and critical thinking skills are more important than ever.
What excites you the most about working with students?
AM: In the frazzles of planning and preparing lessons, I am always adjusting and tweaking my plans to better the experience for my students. What excites me is when a student takes interest in something I taught or asks questions that show they have thought about the subject beyond our class. Beyond the academics, I enjoy talking to students about their athletic events, the upcoming musical, and helping them figure out where to go to college or make the decision to join the military. Students want their teachers to know and care about them beyond the classroom and see them as individuals. This is something I strive to do and building these relationships with students is what keeps me coming back each day.
What advice would you provide students interested in majoring in History and History/Social Studies Education?
AM: The best advice I can offer to those entering History/Social Studies Education is to welcome constructive criticism with open arms while also finding your own unique teaching style. Two classrooms are not and should not be identical or have the same classroom culture. Take advantage of the resources at Appalachian and surround yourself with supportive professional colleagues so that you can learn and grow together as educators. Having a growth mindset, asking for help, and creating a professional network will take you very far in your career.
Why should high school students consider Appalachian State University?
AM: If you want to teach, Appalachian is the place to be. The comfortable mountain environment, the experienced faculty, and the reputation of producing quality teachers since 1899 makes ASU a special place. Your professional relationships with professors do not end on graduation day, they become a part of your network that you can reach out to at anytime.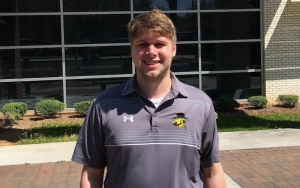 Tags: