Adam Warren (BS '07, MA '09) joined the ACCESS Scholarship Program at App State in 2014. Today, he serves as the Director of the James Center in the Reich College of Education. Previously at App State, Adam worked as an advisor to ACCESS scholars from orientation through graduation, taught a first-year success course called ACCESS Seminar, and worked to provide support and advocacy for all ACCESS students. In public education, he taught high school history and seminar courses at Caldwell Early College High School in Hudson, North Carolina.
A native of Wilkes County, Adam received both his B.S. in History/Secondary Education and an M.A. in History from App State. He has also worked with Upward Bound, assisting low-income, first generation students. Adam is passionate about helping students succeed and making education affordable and available to all.
---
Why did you choose App State?
Adam Warren: Education has always been extremely important in my family. My mother was an assistant teacher for seventeen years before I watched her go back to school in her 40s to receive her Bachelor's Degree in Elementary Education. She taught for another 13 years. My sister attended Appalachian State before me and graduated in '98 with her Middle Grades Education degree. Watching my mother and my sister attend Appalachian State gave me a strong connection to the university. As I was looking for schools to attend, I knew Appalachian State as a place that truly cared about its students and a place that offered a lot of opportunities in education. I was a recipient of the Teaching Fellows Scholarship and Appalachian State had/has one of the best teaching colleges in the state. Choosing App State was one of the easiest decisions for me.
How did the History Education Program help you prepare for your career?
AW: My career took a meandering path to where I am now. During my undergraduate years at App State I got involved with the Upward Bound Program. Suggested by a professor in the History department, I started tutoring for Upward Bound and working with them during summers. Upward Bound works with students who are first generation or low income high school students and helps to prepare them to apply for and attend college. My experiences with Upward Bound led me to my first teaching job at Caldwell Early College High School, a school that served 85% low-income/first-generation students.
The History Education Program at App State equipped me with many tools to support these students at all levels. History is a field that allows us to view people in all their success and challenges. It allows us to see the mistakes of entire civilizations, the successes of individual leaders, and how the meandering impacts of events influence our current world. In addition to the lessons I learned within the classroom, the lessons of research, delving into multiple sources and having your initial question changed mid-research impacted how I taught my classes. I really enjoyed connecting to students where they were at and making lessons designed around their interests; for example, creating board games about historical events and having them go around and play each others games to learn what had happened. Integrating gaming or other pop culture elements into the classroom really helped students see the relevance of the material
What advice do you wish you received before starting your career?
AW: The advice I wish I had received before starting my career is something I feel like I was given through the program. I know current Education majors may hate it right now, but reflection is the best practice of the profession. Reflecting constantly in the classroom was my biggest tool in developing good, interactive, useful lessons. Take the time to evaluate and reflect each day on the lesson; what worked, what didn't, what you want to keep and what things to throw out entirely. Each year in the classroom is completely different with new students, new events happening in the news, and new ways to get information to our students. If we teach the same way each year, we run the risk of losing our students quite quickly, so reflect often in order to make the most of your students and their experiences. For History Education students just starting out, please spend time in a classroom as early as possible. Go home on breaks and ask to volunteer in your old high school or middle school. Find opportunities to work with high school students during your college years. The tools you will gain from these interactions are invaluable in the classroom.
What is the best part of your job?
AW: ACCESS is a program that works with students whose family income is at or below the poverty level. We advise our students from Orientation to Graduation and offer targeted support throughout their years at ASU. As much as I enjoyed teaching, it was the relationships I built with students that I enjoyed the most - I moved form teaching History itself into teaching Seminar courses [which] were focused on finding your passion, moving towards your goals, and generally becoming a great person. The lessons I gained from the classroom continue to impact the work that I do with students now. The first and most important rule any teacher should follow is, "They won't care what you have to say, until they know you care." (paraphrasing) This lesson holds true for advising and is the best part of my job. Getting to know a student and help them navigate college is great. The most rewarding part of my job is helping students who are struggling and watching as they right their ship before it tips over.
What do you see as a major issue impacting education in NC today?
AW: One of the major issues facing education is, of course, pay. I also see a focus shifting away from History to focus on STEM. STEM is a great field, but I fear that we run the risk of losing and understanding of the world and its people by losing the emphasis on the field of history. Understanding the current world relies on understanding how we got to this place and helps us to become informed citizens.
How can App State do a better job of recruiting students from under-represented groups to join the teaching profession?
AW: Education is not simply a career path, but often a calling. I believe there are several students who might have that calling to education but are unable or unwilling to identify it as such and pursue it. One of the most common reasons students who would be spectacular teachers do not enter the field is because they are worried about pay, which is a legitimate worry. Specifically for under-represented groups, education may seem like they are not "moving forward" and instead simply staying put.
I would stress, however, that education is the ultimate equalizer. It provides opportunities where before there were not any and allows people to challenge the way they see the world. Pursuing a career in education allows you to impact your world and truly leave a legacy. I have watched as people I have never met, who were in their 40s and 50s walked up to my mother in restaurants to thank her for something she said and did when they were in her 2nd grade classroom. Often my mother did not even remember the event/day in question, but for others, it makes a lasting impression. We never know the impact we will leave behind us, but as educators you know that you will connect to people and leave a legacy behind you.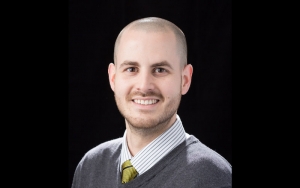 Tags: