Carly Pugh ('17) completed her clinical internship requirements at Avery High School in ten weeks before traveling to Germany for five more weeks of student teaching, working alongside faculty and staff at a local school (Gutenbergschule) in the city of Karlsruhe. Today, Carly teaches middle grades social studies in Gaston County Schools.
---
How has ASU prepared you for a career in History/Social Studies Education?
Carly Pugh: ASU has prepared me for a career in Social Studies Education by providing me with experiences in various classrooms. Although I initially believed there were more similarities than differences between our local school systems, I have learned how unique each classroom is. Through real experience, I have learned about classroom planning and management.
Why did you decide to become a History/Social Studies Educator?

CP: I decided to become a Social Studies Educator because the subject captured my attention in college. I did not realize how liberating the study of history can be until I was an adult. I want to show my future students how personal history class can be. As far as education in general, I am passionate about teaching because I am passionate about learning.
What excites you the most about working with students?
CP: The most exciting part of working with students is the personal connection I can build with them. I love to learn about my students' strengths and weaknesses and make connections with them in that way. I like to learn history with them rather than tell it to them.
What advice would you provide students interested in majoring in History and History/Social Studies Education?

CP: I would advise future History/Social Studies Ed majors to talk to as many teachers as they can. Find out what their definition of teaching is, and then build your own. Reflect on that, and write it down somewhere. Find out why you care about education, and hold on to that for the rest of your career.
Why should high school students consider Appalachian State University?
CP: I believe Appalachian is a place for students who care about community as much as they care about education. This town is a home away from home for me; I got that feeling when I first arrived in Boone. I could see myself walking down King Street with a cup of coffee, jamming at Legends, hiking up Rough Ridge, and skiing at Sugar Mountain; so I did.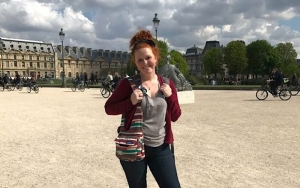 Tags: