Charlie Dejournette ('21) didn't originally plan on going into history or history education. Originally from Burlington, NC, Charlie wanted to become a farmer. When he took some community college history courses, though, he knew that he needed to change majors. "I loved being in my history classes," he says, "and wanted to take what I learned in my history classes and become a teacher." He completed his student teaching internship at Williams HS in Burlington, NC. When he's not studying history, Charlie enjoys watching sports, particularly football and college basketball.
---
Why did you choose App State?
Charlie Dejournette: I chose App State because I heard from friends and family that App State has a great teaching program and a great history program. When I took the tour back in April of 2019, I knew that App State would be the perfect school for me.
What information did you wish you had received before coming to ASU?
CD: The information I wish I received before coming to App State is to be prepared for the cold! I was born in Burlington, North Carolina, so I don't receive a lot of snow days. It took a while for me to get used to the snow up in Boone and the winds up there.
What made you decide to become a History/Social Studies Education major?
CD: When I was in high school, I thought I wanted to do something with agriculture. Then, when I got to community college, I decided I did not want anything to do with agriculture. That's when I thought about what I liked learning while I was in my first semester of community college in 2017. I enjoyed learning world history and I wanted to learn more history. I wanted to take what I learned in my history classes and teach kids what I learned and share that knowledge with them.
What advice would you give high school students who are thinking about App State, or majoring in History/Social Studies Education?
CD: Have fun and enjoy App State because there are so many opportunities to take and friendships to make while in Boone. Enjoy learning about what it is like to think like a historian and get to know the professors in Anne Belk Hall. All of the history professors are fantastic, and it would be great to get to know them because they are very helpful.
Outside of the classroom, what's been one highlight during your time in Boone?
CD: Going to the App State football games. I am a huge football fan and I didn't know that App State had a really good football team, so I enjoy going to every home game with my friends. It was fun hearing the music from the band, participating in group chants, and watching App State win the game.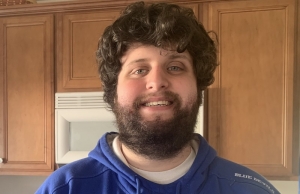 Tags: