Christian Gardner ('17) teaches high school social studies in Maryland. A native of Knightsdale, NC (just outside Raleigh), he chose App State over other state institutions that his classmates at East Wake High School preferred. Christian wanted to attend a college with a more laid-back and personal atmosphere, and App State fit the bill. Christian completed his student teaching at Watauga High School, mostly teaching Civics & Economics.
His experiences at App State have translated well to McDonough High School in Charles County Schools, MD, where he teaches Local, State, and National Government and AP Comparative Government.
---
1. Why did you choose App State?
Christian Gardner: I initially chose App State because of my love for the mountains and the outdoors, but quickly grew to love the culture, the professors, and the peers as well. ASU provided me with resources from the start to help me navigate my educational path, and the support continued throughout.



2. How did the History Education Program help you prepare for a career in history/social studies teaching?
CG: The History/Social Studies Education program was my intended major as early as high school, and I was happy to learn that it is a highly respected program across the state. The history education classes were helpful largely due to the exposure they provide to teaching skills and real classrooms. Between internships at local schools and creating lesson plans/pacing guides as practice, the program gave me the exposure I needed to hit the ground running as a teacher.
---

---
3. What is unique about your school or students?
CG: My school (McDonough HS) is unique in its size and diversity. I teach at a small 1A school in Southern Maryland, with a more diverse student population than I experienced in North Carolina. My school has its challenges but ultimately offers opportunities to see real growth in students.

4. What advice do you wish you received before starting your career as a history/social studies teacher?
CG: My advice to all soon to be educators is to practice patience in all situations in the classroom. Teaching is a difficult job, and feeling overwhelmed is a very real part of it, but patience will get you further with challenging students than anything else.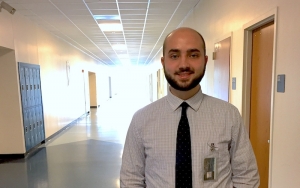 Tags: