Hannah Carpenter ('20) is a native of Stanley, NC, and currently teaches at Ardrey Kell High School in Charlotte, NC. She arrived at App State as a Junior by credits from Gaston Early College High School, which allowed her to jump right into her major classes. And did she ever hit the ground running! During her time at App State, she was an ASU Education Peer Ambassador for the Reich College of Education, active in both RCOE and the History Dept., attended the North Carolina Council for the Social Studies Conference, and made positive connections with both history faculty and students. Looking back at why she chose App State, Hannah remarked: "Before I made my decision to come to App State I toured various other campuses, but I didn't get the same feeling as I did when I toured ASU. App State felt like home. It's where I could become the best teacher for my future students."
In her downtime, she enjoys spending time with her dog Winston and loves to go on walks at the local park.
---
Why did you decide to major in History/Social Studies Education?
Hannah Carpenter: I chose to major in History/Social Studies Education because I am passionate about how future generations interpret history. I have traveled to 36 of 50 states in the U.S. and had the opportunity to experience many National Parks throughout my travels. This sparked my love of history from a young age. I have seen the ways in which historical narratives can skip over key stories about the past, especially those of women and minorities. I want to give students the opportunity to look at the whole picture from various perspectives rather than a small piece from one perspective. I want to instill in my future students the same spark and love for history these experiences ignited in me.
Why App State?
HC: I came to Appalachian State because the university is known for the education program that helps to shape future teachers into being successful both in the classroom and in collaboration with other educators. The Reich College of Education (RCOE) and the History Education Program (HEP) all have wonderful support systems in place to help students be as successful as they can at App State, as well as providing building blocks to make future teachers as successful as they can. There exists a feeling of community and a welcoming atmosphere that I had not felt anywhere else. The James Center for Student Advising and Success is a space that is unique about App State. It really resonated with me as a place that would provide support to all education majors and help students to become the best teachers. I have found many useful tips and seminars that are sponsored by the James Center as well as a common space to interact with all education majors.
"Before I made my decision to come to App State I toured various other campuses, but I didn't get the same feeling as I did when I toured ASU. App State felt like home. It's where I could become the best teacher for my future students."
How has the History Dept. and the History Education program helped prepare you for a career in history/social studies education?
HC: The support from all the faculty and staff of the History Department and the HEP are truly the reason why I feel as prepared as I do to teach in a classroom setting. Many professors are able to talk about all of the history program tracks and gear their classes towards all history majors, which is helpful because we are able to see how various content can fit into our future classrooms. I have had many opportunities through the HEP to attend professional development seminars, develop connections with history faculty, and be supported with all of my classes. I was unsure about coming in if I was going to stay with History/Social Studies as my major, but after being in the program I feel more confident and passionate about my decision.
What would you tell a high school student thinking about attending App State and/or majoring in History (Education)?
HC: Deciding where to attend college is a big decision, especially when there are so many options. I personally had a difficult time choosing, but I knew once I stepped onto App State's campus that it felt like home for me. I knew that App State was well-known for its education program and history education program. I made sure to visit the history education table at Teacher Education Preview Day to ask all of my questions and get a better idea of what the program was like. I knew after that day that App was the place for me. As for majoring in History Education, there were many people who tried to tell me that I should choose another profession or choose one that made more money. Many people will try to tell you to reconsider, but if you feel passionate about teaching and know that this is what you want to do then you should go for it! There is such a great support system in the HEP with faculty and fellow peers to turn to if you have questions, fears, or just need someone to talk to.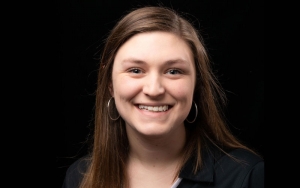 Tags: