Jon Frederick ('18) is a social studies teacher at Apex High School in the Wake County Public School System. While at App State, he excelled in several History Ed courses, as well as during his student teaching experiene at Watauga High School. He is also a big sports fan and excited to share his passion for history and sports with his students.
---
How has ASU prepared you for a career in History/Social Studies Education?
Jon Frederick: ASU did a great job at preparing me to become a social studies teacher. The classes were great, especially ISHE and Methods. They taught me a lot of valuable information on lesson planning, using assessments, making content relevant and student centered, pacing, and more. ASU has also taught me a lot about content I will teach, as well as provided me with valuable resources. Student teaching was definitely the most valuable and helpful experience, and I'm glad that ASU works to ensure it is the best experience possible.
Why did you decide to become a History/Social Studies Educator?
JF: I decided to become a teacher because it provides me with a great opportunity to work with people and help them learn. I always enjoyed learning about new things I was interested in, and I wanted to continue to do so while also teaching others. Before I decided for sure to become a teacher, I enjoyed similar roles such as being a camp counselor. Once I knew that I wanted to teach, I chose social studies because it was my favorite subject for a long time, and a relevant one to people regardless of what they do later in life. I also chose high school because I wanted to help students who were on the verge of making big life decisions such as what college to go to and career to pursue. I know a lot of people who struggled with those choices because they did not have a lot of information.
Why should high school students consider Appalachian State University?
JF: App is definitely a great school that high school students should consider. There are a lot of great programs and opportunities that the school provides. Teaching is definitely a big one, but there are a lot of other options too. There are also a lot of great professors and other faculty who are very nice and helpful. The students are great and generally promote a community that is great to be a part of. ASU is also a really enjoyable place to be. There are also a lot of activities, especially outdoors, to be a part of. Plus, the football games are a ton of fun and the team is one of the most successful in college football over the past few years. There are so many great things about App and Boone that future college students would love to be a part of.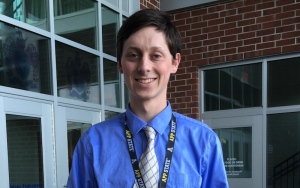 Tags: