A native of Mebane, NC, JT Kirby ('17) taught Civics & Economics at Southern Alamance High School during his clinical internship (student teaching). JT continued to work with Alamance-Burlington School System as a long-term subsitute teacher at SAHS in spring 2018, and now teaches at his alma mater: Eastern Alamance High School.
---
How has ASU prepared you for a career in History/Social Studies Education?
JT Kirby: ASU prepared me for a career in Social Studies education by showing me what it means to think and teach like a historian. Through the makeup of the coursework in the Social Studies education program, I obtained an immense amount of knowledge in content, as well as how to research, write, and teach like a historian would in their respective field. I feel that learning how a historian conducts research and interprets information was vital to demonstrating how some of the same principles can carry over to a middle or high school classroom and allow the educator to create an effective learning environment. I feel much more confident in what I do on a daily basis in the classroom from what I learned at ASU.
What excites you the most about working with students?
JTK: I would say that what excites me most about working with students is knowing that I have the opportunity to make a difference both in their experience in social studies as well as in life. Social Studies education is a unique area, where nearly every topic discussed has some sort of relevance in a student's life. Being able to see students engage in conversations and debates about topics, as well as track the growth of their understanding is extremely rewarding. Beyond teaching students about a simple fact or date, what drives me is seeing students obtain knowledge that they will carry for a lifetime, and will prompt them to pursue an awareness of the world and past around them.
---

---
Why should high school students consider Appalachian State University?
JTK: High School students should without a doubt consider Appalachian State University for their choice of higher education because the environment of the school, campus, and community is as rewarding as the eventual diploma. In my experience ASU has always felt like a family environment. This environment includes professors and instructors who care for their students' well-being and education. As well as a close knit community of students who in many cases can become lifelong friends. Between the relationships built and the quality of education provided, every student should at least give ASU a serious look before making their decision. That's not to mention the incredible sites and experience of living in the beauty of the Appalachian Mountains.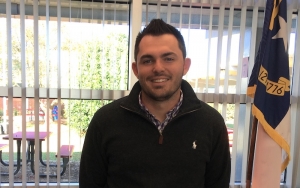 Tags: