Over they years, the History Department has had the privilege of working with majors who were part of the (old) NC Teaching Fellows program, and its current version known as the Appalachian Community of Education Scholars, or ACES. Kirsten Anderson excelled as an ACES scholar and History/Social Studies Education major before graduating from App State in spring 2017.
Reflecting back on their time workng with Kirsten, ACES director Jan Stanley and Asst. Director Trisha Caviness, remarked:
"Kirsten remained passionate about the difference she would make in her social studies classroom. She participated in various opportunities provided by the ACES program to enhance her experience as a history education major at Appalachian State. These experiences focus on community service, leadership, and professional development for future educators. She understood the importance of making connections during her college career, both with peers and faculty. Kirsten will value these networks throughout her career as she will thrive as a teacher in a North Carolina school."
Kirsten completed her clinical internship (student teaching) at Ashe County High School, and currently teaches social studies at South Rowan High School.
---
Why did you decide to become a History/Social Studies Educator?
Kirsten Anderson: I had a teacher who expressed that social studies can teach a person far more than when the French Revolution began. It can teach you how to think critically about the world around you, analyze people and ideas, and use the past to influence the future. I realized that I wanted that to be my career; I wanted to be the person that taught students skills beyond the curriculum.
What excites you the most about working with students?
KA: I am so excited to work with students on project based learning assignments. I think that offering students an opportunity to express themselves and display content understanding offers me a unique insight into their personalities and abilities that a test simply doesn't show.
Why should high school students consider Appalachian State University?
KA: Appalachian State offers so many opportunities in both academics and leisure time. The Blue Ridge is an amazing area to call home for your college career and this university has fantastic opportunities for every major/minor of study.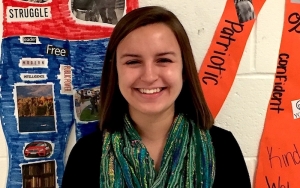 Tags: