A graduate of Riverside High School in Durham, NC, Margie Wescott ('21) was a member of Chi Omega and an advocate for social change during her time at App State. For Margie, history is not just about learning facts. "History is about learning the stories of our past to make a brighter future," she writes. "We can learn from our mistakes and make things better. For a subject based on the past, it never gets old."
Margie enjoys studying the European medieval era, American Imperialism, and the Civil Rights Era. History is chock full of new stories and new perspectives, which means that it is a subject that, according to her, "is literally growing every day." She hopes to take that enjoyment and exploration of past stories to the classroom at Jordan HS (Durham County Public Schools), where she also completed her student teaching internship. Margie eventually would like to attend graduate school, in either educational leadership or curriculum and instruction.
---
What made you decide to become a history education major?
Margie Wescott: My dad has worked for North Carolina history sites my whole life. I've always been a huge history nerd because my learning was never confined to the classroom. My dad never taught me history using facts and dates, they were an intricate web of stories that brought us to where we are today. In high school, all my friends hated history because it was a stream of facts and dates. I would help them with their homework and explain the events we were studying in my own words through the stories my dad taught me. I started to realize that not only did I love telling these stories, but I was pretty good at it. It didn't take me long to figure out History Ed is what I wanted to do full time, so here I am!
In what ways do you think App State has prepared you to teach high school social studies?
MW: App State has worked tirelessly to prepare me for everything in and out of the classroom I'll face both as a first year and many years down the line seasoned teacher. On the more technical side of things I've learned about classroom technology, curriculum and assessment, and so much history it would make your brain melt. I've also learned a lot of important lessons and had a lot of important discussions about how to be an ally for my students and to create a safe classroom environment where students can learn, create, and be themselves. App does it all.
What advice would you give high school students who are thinking about App State, or majoring in secondary history/social studies education?
MW: The faculty and community here are absolutely unmatched. All the faculty in the department have students best interest at heart at all times. I can always go to a professor or advisor to ask a question about lesson plans, chat about my next move after college, or just brainstorm a project or idea. The students here are all so passionate about the degree we're pursuing. I have a friend in every class I can work on projects with, have critical discussions with, or just have a buddy to talk about education things my non-ed major friends would ever understand. Yeah, the classes here are super informative and will make me an incredible teacher, but the community here is what I'll always love and remember.
What is your favorite history-based film?
MW: Hidden Figures!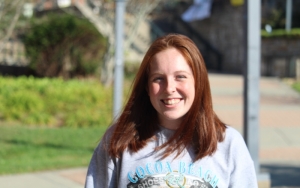 Tags: