[Retired Faculty] Dr. Myra Pennell knows education. After completing her B.A. in History from Appalachian State University, she worked for 22 years in Caldwell County Schools, both as a history teacher and as an administrator. She eventually received an Ed.D. in Curriculum & Instruction, Social Studies Education from UNC-G.
Dr. Pennell became the director of the App State History/Social Studies Education program in 1996 , serving in this capacity before retiring in 2015. Over her career at App State, Dr. Pennell taught hundreds of History/Social Studies Ed, History, and Education majors -- both at the undergraduate and graduate levels. She also mentored and observed hundreds of student teachers during their history/social studies internships.
Looking back at her experiences with social studies education, Dr. Pennell believes that"power" is an operative word. For her, teaching can be "very scary" for novices. Student Teachers are not only trying to achieve "alpha status" among teenagers who can run them over; they're also mastering the nuts and bolts of a profession she likened to "trying to learn to fly a helicopter and bake a cake at the same time." Specific things can be done for beginning teachers to achieve power in the classroom, according to Dr. Pennell. One is to disabuse beginning teachers of the notion that excellent teaching is a natural gift. Another, which is particularly effective with underachieving students, entails coming up with an assignment at which students can be successful. Often, beginning teachers are so wrapped up in mastering content that they don't stop to consider the kind of work a student needs to be doing.
"Success is a drug," Pennell says. "If you can set up an assignment so that they can be successful at it, then they will begin to change their minds about what they believe they can do."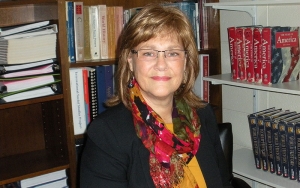 Tags: