Nina Olivardia is a native of Orlando, FL. She moved to Boone to attend App State and has enjoyed the change of scenery these past years, while also making trips back to Orlndo to see her family. Nina's desire to become a history major stems from a belief in the power of human stories. "History," she explains, "allows us to gain insight into other people's way of life and perspective. I find stories of the past so incredibly interesting and that's why I want to teach history."
Beyond majoring in history/social studies education, Nina graduated with a minor in theatre studies, which she hopes will allow her to bring an interesting twist of entertainment into the social studies classroom as she begins her professional teaching career in Tallahassee, FL. She is also a world traveler, exploring every continent except for Antarctica and Oceania ... for now. [FYI - Thailand continues to be her favorite visit.] Nina's larger goal is to help students develop into productive members of society who are involved and care about the world around them. For her, helping adolescents master the social skills they'll need to interact with the world around them is a crucial part of being both a historian and an educator.
---
What advice could you provide an incoming freshman, transfer student, or newly declared major?
Nina Olivardia: Some advice that I would offer to someone new to App State would be to give Boone a chance to grow on you, and give yourself a chance to grow here. For me, it was challenging to move to a small town from a big city. Boone is an amazing place and you just have to find your place in the community. Once I found my place in the Appalachian community, I grew into the person I am supposed to be.
What is the best part of majoring in history?
NO: The best part of majoring in history is learning about humans and how humans connect with one another. I am strong believer in the social component of social studies education. History allows us to gain insight on how others lived and communicated during their time. I think this is very powerful and can transcend into day-to-day life.
What is the best part of living and studying in Boone?
NO: The best part of living in Boone is the Appalachian State community. I love walking on campus and always seeing someone I know. That is what is so great about living in Boone, there is a small-town aspect where you are do run into people by chance. This hospitality and friendliness has inspired me to become more involved in the college community through my extra-circular activities. In addition, the faculty at App State have high expectations, but they help you and teach you how to meet those expectations. That is my favorite part of studying at App State.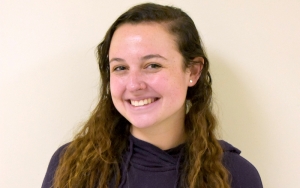 Tags: