Rachel Shepherd (BS '04, MA '11, MSA '13) is a native of the High Country and an App State alumna through and through. She taught social studies at Ashe County High School for over 10 years before moving to Watauga High School to become the instructional technology facilitator. Throughout her career, she continued to develop herself as a professional educator by earning a master's degree in educational media ('11) and administration ('13). She is a National Board Certified Teacher and currently serves as an assistant principal at Watauga HS.
For Shepherd, becoming a history/social studies teacher was a way to help students who, like her, may be the first one in their family to go to college. "Education is a great equalizer," she says. "It gives you a better chance to live a successful life." Thinking about the challenges teachers face, she cites a lack of respect for the teaching profession as a major problem. De-emphasizing academic success sends a wrong message to kids; it obscures the great promise of what a solid education and academic achievement can do for you. Shepherd likes to remind students that school is a place where you can learn how to deal with yourself and others. As a teacher and administrator, she would encourage teachers to find opportunities to learn each student's background, understand how their personal life may affect classroom performance, and use that information to reach them.
"[History Education courses] gave me focus and inspired me to show students why history matters."
Shepherd credits the History Education Program at App State for a lot of her success. "[History Education courses] gave me focus and inspired me to show students why history matters." She also enjoyed other departmental courses that fueled her passion for history. Shepherd is ultimately glad that she chose App State over other, larger, state institutions. "I love the mountains and the intimacy of ASU. I could have felt lost at larger schools."
Her career also shows that history/social studies education majors can think about possible alternatives within education. She never thought about going into administration after graduating in 2004, nor a job outside the classroom. However, Shepherd has always been interested in technology for classroom use, and used that interest to lead professional development sessions at Ashe HS. When the opportunity to become a full-time technology facilitator presented itself at Watauga County Schools, she jumped at the opportunity. "You can have all the gadgets in the world," she says, "but technology is just a tool. You need to have sound pedagogy behind the use of these digital tools." As the IT facilitator, she marveled at how teachers across disciplines used technology to support diverse teaching methods.
The IT Facilitator experience encouraged her to work even closer with teachers. In 2017, Shepherd accepted the Assistant Principal position at Watauga HS in order to share advice with teachers, experience different perspectives towards instruction, and see the big picture of school management. Along the way, she has enjoyed the ability to connect with social studies teachers and thus maintain one foot in the door with history/social studies education. She is also a continuing supporter of the History Education Program at App State, volunteering her time to discuss career experiences with students and teaching the occasional course.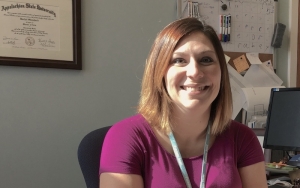 Tags: