A native of Wilkesboro, Shannon Furr (BS '19, MA ongoing) arrived at Appalachian State University with a passion for working with children in the classroom. After considering all the state university education programs, she eventually felt most comfortable in the mountains. "When I visited App State, it felt like home right away," she recalls.
The strength of the Reich College of Education and its K-5 preparation program captured her initial interest. However, Shannon signals her freshman year in World Civilization with Dr. Allison Fredette as a turning point. She loved studying classical civilizations, and credited her civics teacher at Wilkes Central High School - ASU History/Social Studies Education Alumni Heather Hahn ('00) - with fueling her passion for civic action. While speaking with Dr. Fredette about her interest in history and civics, it became clear to Shannon that a social studies classroom would best match her passions, interest, and strenghts with a career in teaching. She made the switch to the BS History/Social Studies Education program and minoring in political science. She also completed an international student teaching experience, spending ten weeks in Wilkes County, NC, before interning at a school in Germany.
Shannon particularly enjoyed courses in history education and judicial/legal history. Courses with Dr. Fredette and Dr. Sheila Phipps revealed the importance of understanding how legal decisions impact women's rights and those of minority groups. My goal, Shannon says, "is to help students become aware of the narratives of the past so that they can develop a deeper identity in this world and the nation."
"[My goal] is to help students become aware of the narratives of the past so that they can develop a deeper identity in this world and the nation."
Reflecting on her time at App State, Shannon believes that the university has done a great job overall in broadening learning opportunities outside the classroom. She has benefited from opportunities to travel and study abroad with the History Dept., which provide a more holistic view of the past than the typical Western- and US-centered narratives of world history. This included a six-week internship at a secondary school in Germany during her international student teaching experience. In addition, she credits the History Education Program's CLIO TALKS and James Center's seminars for offering sessions specific to teaching history and social studies in the classroom, as well as the nuts & bolts of classroom teaching. Shannon is also thankful for the opportunity to attend the NC Council for Social Studies annual conference with Dr. Sibaja's HIS 3626 class. This conference opened her eyes to a world of professional development and collegiality within the field of history/social studies education, which in turn led her to attend a UNC World View summer program for educators.
---
Shannon is currently a social studies teacher at Hickory High School. She completed her Accelerated Master's degree program in History at App State. The History Dept. graduate program offers participants a chance to graduate from App State in 5 years with a graduate degree and 9-12 social studies licensure.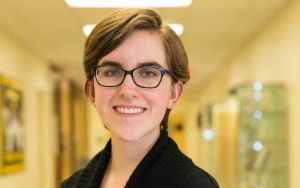 Tags: