For Shiloh Lovette, she would not be where she is today without the help of wonderful educators. They helped shape her life and career goals. Across numerous volunteer and leadership experiences, they helped Shiloh discover a love for helping others. According to her, teaching embodies the best and most important aspects of life ... and she couldn't be happier having chosen a career in history/social studies education. Shiloh graduated with her BS History/Social Studies Education degree in May 2022.
Outside of school and work, Shiloh enjoys hiking, climbing, and being active in almost any way. She also likes volunteering, reading Harry Potter, watching Marvel movies, and hanging out with her huge family back home in Davidson County (NC). She has traveled to the U.K. and Italy, as well as across the U.S. (almost 30 states!). Although she is happy to call NC home, Shiloh's family is originally from New Mexico, and she travels almost every year to visit her grandmother, aunts, uncles, and cousins. These personal experiences have helped her to find joy in learning about other cultures and, hopefully, more places to come.
---
Why did you choose to attend App State?
Shiloh Lovette : When I chose App State, I knew I was going to be attending one of the best educator programs in the country. The History Education Program has exceeded all of my expectations. Every faculty member I've come in contact with has provided aid, whether I've asked for it or they've taken it upon themselves to be kind. Our professors truly want their students to succeed, and in order to do so, they are constantly working to create new opportunities for student and professional growth. When I decided I wanted to be a teacher, I knew I had a lot to learn. So, I'm grateful to have chosen App State. I know this community of educators are truly dedicated to my growth and to the success of all students.
What advice would you give to an incoming freshman, transfer student, or recently declared major?
SL: My advice would be to ask questions! I've met with our academic advisor, Jenny Morris, three times in the past three months. While I'm sure she's tired of seeing my face, I've been able to plan my schedule for the next two years, discover new opportunities which continually pop up in our field, and I've gained more control over my total experience at Appalachian!
What is the best part about majoring in History and History/Social Studies Education?
SL: The best part has been learning how to use it to develop life skills. Most educators gravitate towards the field they know best; however, learning how that course of study contributes to the bigger picture of creating well-rounded learners has been the most interesting of lessons. The skills we use to discuss, learn, and explore the subjects we love — such as chronological thinking, historical comprehension, analysis and interpretation, completing research, as well as decision-making skills to reach conclusions — are all valuable life skills needed for day to day tasks. I love learning to use history to develop life skills in the classroom.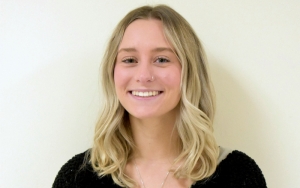 Tags: