"The study of U.S. diplomatic history, particularly when it focuses on issues such as race and culture, forces us to consider the interconnections between domestic and international forces in the construction of the nation's diplomacy. It allows us to see how domestic forces and issues impact America's relations abroad while simultaneously enabling us to understand the influence exerted on the domestic scene by foreign policy initiatives. It truly allows us to understand the totality of the American experience and enables us to better understand exactly what America is or wishes to be."
Dr. Michael Krenn earned his Ph.D. in History from Rutgers University. Dr. Krenn's area of study is U.S. Diplomatic History with a particular focus on the impacts of race and culture. When asked why he teaches, Dr. Krenn stated "I teach because I believe in the scholar-teacher model for university professors. In short, good scholarship should help inform good teaching. One's teaching should help shape and frame a professor's research. If one wishes to work at a university, good teaching and good research are necessarily linked."
Dr. Krenn is currently in discussions with Flowstate Films, a documentary company, to serve as the lead consultant on a documentary dealing with African-American diplomats during the Cold War period. The company is preparing an NEH grant proposal for 2016, with a projected starting date as early as Fall 2016.
Education
Ph.D. Rutgers University
Areas of Study
United States History, U.S. Diplomatic History
Selected Courses
HIS 3822 The Vietnam War
HIS 3228 The Gilded Age and Progressive Era
First Year Seminar course on Boxing and American culture
Selected Publications
Books
The Color of Empire: Race and American Foreign Relations. Potomac Books, Inc., 2006.
Fall-Out Shelters for the Human Spirit: American Art and the Cold War. University of North Carolina Press, 2005.
Black Diplomacy: African Americans and the State Department, 1945-1969. M.E. Sharpe, Inc., 1999.
The Chains of Interdependence: U.S. Policy Toward Central America, 1945-1954. M.E. Sharpe Inc., 1996.
United States Policy Toward Economic Nationalism In Latin America, 1917-1929. Scholarly Resources, Inc., 1990.
Articles and Essays
"'The Low Key Mulatto Coverage: Race, Civil Rights, and American Public Diplomacy, 1965-1974." In Reasserting America in the 1970s: U.S. Public Diplomacy and the Rebuilding of America's Image Abroad, eds. David Snyder, et al. (Manchester: Manchester University Press, 2016):95-110.
"Carl Rowan and the Dilemma of Civil Rights, Propaganda, and the Cold War." In African Americans in U.S. Foreign Policy: From the Era of Frederick Douglass to the Age of Obama, eds. Linda Heywood, Allison Blakely, Charles Stith, and Joshua C. Yesnowitz. (Urbana, IL: University of Illinois Press, 2015):58-80.
"The Color of Obama's World: Race and Diplomacy During the Barack Obama Administration." In Kevern Verney, et al., eds., Barack Obama and the Myth of a Post-Racial America (London: Routledge Press, 2013):161-183.
"America's Face to the World: The Department of State, Arab-Americans, and Diversity in the Wake of 9/11." The Journal of Gender, Race & Justice 7:1 (Spring 2003):149-166.
"Subtlety and Sophistication: American Art, Culture, and Diplomacy at the 1958 World's Fair." Cahiers Charles V 28 (June 2000):109-124.
"Send More Boxing Monkeys: Adventures in U.S. Cold War Propaganda." SHAFR Newsletter 30, no. 1 (Mar. 1999):27-28.
Awards
Donald W. Sink Outstanding Scholar Award, 2013 (Appalachian State University)
I.G. Greer Distinguished Professor in History, 2005-2007 (Appalachian State University)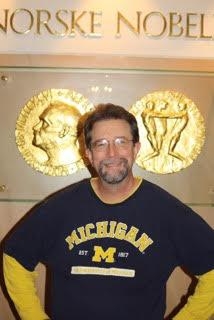 Title:

Professor
Department:

Department of History

Email address: Email me

Phone: (828) 262-4020

Fax: (828) 262-4976
Office address
Anne Belk Hall 249R