Spring 2019
"Gone With the Land: The Environmental Consequences of the Civil War and Emancipation"
with Dr. Erin Stewart Mauldin, assistant professor in the Department of History and Politics at University of South Florida, St. Petersburg
Tuesday, April 9, 2019
6 p.m.
Belk Library and Information Commons, Room 114
This event is free and open to the campus and community.
About Dr. Erin Stewart Mauldin
Mauldin is an environmental historian of the 19th-century U.S. South whose work explores the intersection of race, economic inequality and environment. She received her Ph.D with distinction from Georgetown University in 2014 and her dissertation, "Unredeemed Land: The U.S. Civil War, Changing Land Use Practices and the Environmental Limitations of Agriculture in the South, 1840-1800," won the Harold N. Glassman Award for Best Dissertation in the Humanities.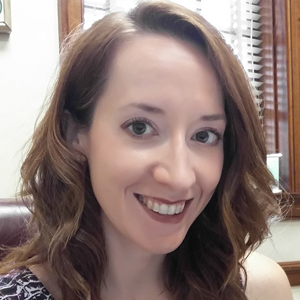 This year's speaker, Dr. Erin Stewart Mauldin is doing innovative work on the environmental legacy of the war. Her book, "Unredeemed Land: An Environmental History of Civil War and Emancipation in the Cotton South" (Oxford, 2019), shows how the war altered not only the landscapes, but also the ways in which people farmed and maintained the land. These changes led to massive erosion and locked farmers into crippling one-crop agriculture (cotton) for the next several decades, casting the southern farmers into a life of poverty for generations.
Read more about Mauldin at:
Past Speakers
April 2018
Dr. Bonnie Laughlin-Schultz (Eastern Illinois University)
"John Brown's Children: The Long Reach of the Civil War"
April 2017
Dr. Michael Thomas Smith (McNeese State University)
"General Benjamin Butler, Politics, Warfare, and Masculinity in the Civil War North"
April 2016
Dr. Jaime Martinez (UNC Pembroke)
"Slave Impressment and Political Dissent in Governor Zeb Vance's North Carolina"
Founding the Series
These events are part of the Civil War Speaker Series in the Department of History, housed in the College of Arts and Sciences at Appalachian State University. Dr. Judkin Browning, Professor of Civil War and Military History, designed the Series for scholars to give presentations on different aspects of the Civil War, helping the general public and campus community view and understand the conflict through new prisms.
For questions, contact Dr. Judkin Browning, Department of History at browningjj@appstate.edu.
About the Civil War Speaker Series
The Civil War Speaker Series furthers the College of Arts and Sciences mission of fostering the development of knowledge and skills essential to continued learning, as well as cultivating habits of inquiry. The U.S. Civil War is perhaps the most popular American history topic among the general public—judging by book sales, TV programs and internet searches. However, interpretations of that conflict are undergoing constant permutations, forever influenced by what's happening in our own society (see the explosion of works on military occupation and guerrilla warfare since the U.S. invaded Iraq in 2003).
These speakers allow the campus community and the greater community to learn more about current historical interpretations as well as expose them to new and creative ways of understanding the war and its aftermath. They will see that the war is about far more than Robert E. Lee and Ulysses S. Grant, and that these scholars open up new windows of opportunity to grapple with the issues of a war whose legacy we are still dealing with today.
This series advances our College's vision, particularly "to engage more of the public in the enterprise of higher education and to help a larger public understand the significance of broad-based education anchored in a tradition of the liberal arts."