Undergraduate Programs
The History Department's undergraduate program is designed to provide students with knowledge of their own cultural tradition and an appreciation of other cultures and societies of the past. It promotes an appreciation of the complexity of human affairs and the difficulties involved in interpreting them. The Department offers a broad curriculum in local, national, regional, and world history which encourages history majors to develop a comparative approach to human problems.
All programs are planned in consultation with undergraduate advisors in the History Department and are subject to the advisor's approval. Students are urged to plan their programs as early as possible in their academic careers, but not later than three semesters before anticipated graduation. Faculty advisors assist with academic scheduling, explain departmental and university requirements, and provide descriptions of new and existing courses and information on career development.
Other useful links: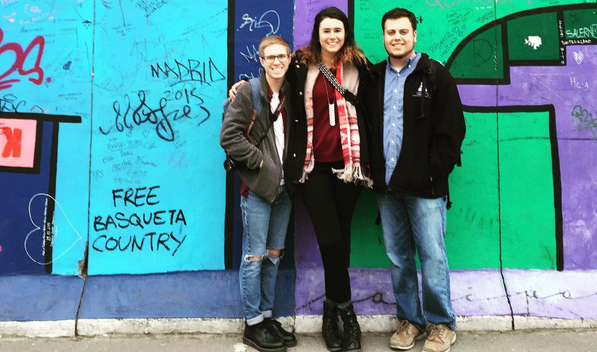 (L to R) History alums Zach Brinkman ('16), Meghan Andreoli ('16), and Troy Colvard ('16) take a break from student teaching in Germany to visit the Berlin Wall. Image courtesy of @meghanandreoli - Instagram.
Advising Contacts
BS History/Social Studies Education:
Ms. Jenny Morris, morrisjf1@appstate.edu, 828-262-2088
Undergraduate Advising:
All BA majors contact Jonathan Billheimer, billheimerjd@appstate.edu, or 828-262-6016
All BS (non-teaching), and Multi-disciplinary (Public History) majors contact Amy Hudnall, hudnallac@appstate.edu, or 828-262-6025
Graduate Advising:
Dr. Judkin Browning, browningjj@appstate.edu, 828-262-6022