Public History at Appalachian State

What is Public History?
Though a definition is always changing, the National Council on Public History currently states:
"Public history describes the many and diverse ways in which history is put to work in the world. In this sense, it is history that is applied to real-world issues."
NCPH Board members described public history as "a movement, methodology, and approach that promotes the collaborative study and practice of history; its practitioners embrace a mission to make their special insights accessible and useful to the public."
Public Historians may be found in the following professional positions:
Government and Business Historians
Museum Professionals
Historical Consultants
Oral Historians
Film and Media Producers
Archivists
Curators
Policy Advisors
Teachers and Professors
Cultural Resource Managers
Historic Preservationists
Why Study Public History at Appalachian State?
The Public History program at Appalachian State University has a diverse group of graduate students with varied professional experiences in the field. This diversity promotes engaging discussion on recurring and contemporary issues in public history. Our students are interested in a broad range of professional positions, while others seek to enter Ph.D. programs. Our program emphasizes "hands-on," practical training in public history with rigorous study of public history theory and methodology.
Graduate students in our Public History program choose one of three concentrations:
How to Choose and Thrive in a Public History Program
Click here for the NCPH's Public History Navigator: How to Choose and Thrive in a Graduate Public History Program. This guide walks you through some questions that will help you choose the best program to match your goals and also has many tips for making the most of a program once you are accepted. Follow #PHnavigator on twitter for more information about how to use the guide.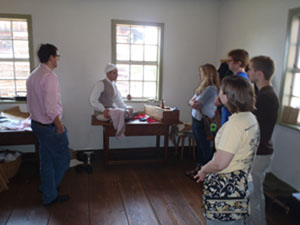 Students of HIS 5585: Historic Preservation listen to a tailor discuss his work at Old Salem, Single Brothers House.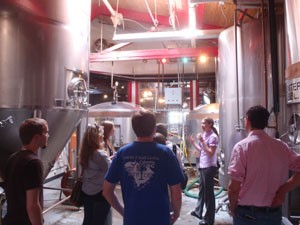 Historic Preservation students tour a former car dealership in Winston-Salem, now home to Foothills Brewery.