Appalachian State public history students have interned at places such as the Smithsonian Institution's National Air and Space Museum, the National Archives and Records Administration, History Associates, the Maidstone Museum and Bentliff Art Gallery in England, the Museum of Ashe County History in nearby Jefferson, N.C., and even a virtual Girl Museum dedicated to celebrating girlhood. Below are a few profiles detailing their experiences and tips for future interns.
Intern: Carson Sailor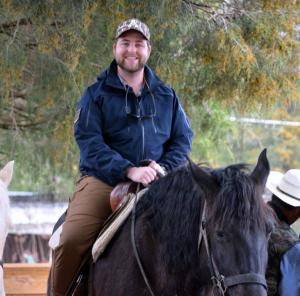 I could not have made a better decision than to take part in a local internship. In the spring of 2016, I interned with the Blowing Rock Art and History Museum, because I wanted to see what it was like to work at a small museum. I had previously interned with the National Park Service and worked for large historic sites, but I didn't see myself working at institutions of that size. I love the work at smaller museums because you have your hands in all aspects of the organization's operations.
Responsibilities
Through my internship I learned conservation and exhibitionary practices, guest curated two exhibits, helped plan and install five exhibits, took part in museum-wide changeovers, conducted research all across North Carolina, met and courted museum donors, brokered art loans worth hundreds of thousands of dollars, learned how to use collections management software, and took part in a 20 hour road trip to pick objects for an exhibit up from all over the South.
Preparation
The Public History MA at Appalachian State does a wonderful job of giving you the tools you need to succeed at your internship. It is up to you to select an internship that will best suit your needs, give you the skills to be a competitive candidate when applying for jobs and thrive in the job you get.
Advice
I am a huge proponent of interning at a smaller organization so you can learn the ins and outs of the of operating a site or museum. At a smaller institution, you get to see the whole picture as opposed to only having a narrow set of responsibilities. Being more than a one trick pony makes you stand out int he job market, and makes you a much more valuable asset than just being a good museum educator, tour guide, or curator. Because of the training at Appalachian State University and the skills I learned through my internship, I was able to secure a full-time job in the field nine months before I graduated.
*photo courtesy of Carson Sailor
Intern: Jamie LeAnne Hager
"Taking the Management of Museums and Historic Preservation courses were ideal for preparing me for the internship. They gave me a good idea of what I'd be getting into and how to cope with various tasks. The institution I worked for was re-vamping their building and going through a series of managerial changes. Post-internship, my experiences with the historic house and structures of the area prepared me for the Architectural History class here at ASU."
Responsibilities
Re-organized the archives
Catalogued the archives
Published the archives into an online collection
Aided local researchers
Catalogued various parts of the curatorial collection
Served as the Association's archivist
Advice
Find living arrangements in close proximity
Keep in close contact with the agency prior to the internship
Ask them to provide you with a specific list of duties
Maidstone Museum and Bentliff Art Gallery in Kent, England and Museum of Ashe County History (MACH) in Jefferson, NC
Intern: Natalya (Hopper) Buckel
My work experience in England was particularly valuable as I was able to build potential contacts in the area. I am relocating to the town of Maidstone after graduation and knowing more about the international museum world was helpful. If the Maidstone Museum had a job opening I would love to work there as it is a wonderful place!
My internship at MACH was very close to home in more ways than one. My grandparents are involved with the museum and my ancestors were some of the first settlers in Ashe County. Many of the items in the collection belonged to my family, including a Civil War era wool blanket I researched during my internship. I am continuing to work with the curator (as their budget allows) on developing new costume-related exhibits. I met several interview subjects through my internship for my thesis research on women's homesewing in Ashe County in the 1930s, 40s and 50s. I plan to install a display based on my thesis this May titled "Feedsack Fashion in Rural Appalachia."
*Pictured Right: Dressing a mannequin at the Maidstone Museum and Bentliff Art Gallery in Kent, England
Responsibilities
Maidstone Museum and Bentliff Art Gallery
Help create and design an exhibit on embroidery titled "It's All in the Details"
Research selected objects and write text labels for the exhibit
Learn about properly storing and transporting historic garments
Document and photograph a collection of over 200 women's purses for a searchable Access database
Gain better understanding of international museum practices
Museum of Ashe County History
Access new gifts to the museum using PastPerfect software
Research underdeveloped aspects of the collection like costume history and women's military roles during the Second World War
Assist with the preservation of the historic county courthouse and new museum space
Help research and select appropriate historical paint colors for the interior walls of the first floor
Build relationships with possible donors and volunteers by collecting emails from consenting guests who wished to be added to a new email list
Share resources with the curator related to contemporary challenges in small museums
*Pictured Right: Discussing paint choices for the historic restoration of the courthouse with award-winning preservation architect Joseph Oppermann
Advice
Find something fun and that will allow you to explore a possible career direction. If you think you'd like to work in archiving materials, there is no better way to find out!
I am glad that I participated in two separate internships. Though one was only a week and the other was much longer it was interesting to compare the experiences.
Don't be afraid to develop your own projects if your internship supervisor is comfortable with it. Most of the research I completed at MACH was of my own initiative and reflects my personal interests and talents.
If you plan to do a full international internship start early. There is a lot of paperwork and planning involved and you'll need to meet with the International Studies Department.
* Photos courtesy of Natalya (Hopper) Buckel
The History Press: Charleston, SC
Intern: Ryan Finn
"My time as an intern for The History Press in Charleston, South Carolina, was extremely rewarding and I ultimately made good use of my education as a public history student at App State. Charleston is a beautiful, historical city and my time spent there was terrific. It perfectly personifies a business that is "small" and intimate but rigorous, professional and international."
Responsibilities
Assisted commissioning editors when and wherever needed
Internet research
Checked incoming messages sent by authors to ensure they met criteria for use in the book
Spent time in sales and marketing doing a large amount of regional and geographic research for them
Wrote Excel spreadsheet documents that created and ordered certain pieces of information to be more easily used by the sales and marketing team
Advice
As an intern you need not fear messing up important projects
If you pay attention to instructions, are willing to ask questions, and carry out your tasks to the best of your ability you should be fine.
National Archives and Records Administration: Washington, DC
Intern: Julianne Oroukin
"For this internship, I worked with the Education Team and they provided me with a well-balanced experience inside a government institution. The experience I gained while working with students, teachers, and visitors from many countries has become a critical part of my education as a Public History student. I was given the opportunity to work directly with collections and learn of their maintenance and care. My courses in Museum Education and Museum Management prepared me for this internship. Additionally, my internship has proven valuable as I complete the course Records and Society."
Responsibilities
Assisted with the operation of the Boeing Learning Center. I received visitors in the ReSource Room, explained the National Archives purpose and answered questions. I also assisted with teacher and student groups in the interactive Learning Lab.
Contributed to the development of educational activities for young children.
Examined financial records from World War I to ensure they were preserved and assisted in a digitization project involving photos from Vietnam
Worked as a docent and led tour groups of different ages and various backgrounds through the permanent and temporary exhibits
Advice
When looking for an internship, look for something that not only sparks your interest but sounds like a position you may want a permanent job in.
Your intern coordinator is possibly the most important contact you will have. Learn what you can from them and build a relationship. Also, network with as many people as you can.
Smithsonian Institution: National Museum of American History
Intern: Sam Duncan
"I learned that to operate on the Smithsonian level is to be among the very best. The people I have been privileged to work with have been absolutely brilliant; creating an atmosphere that generates greatness. It's the best experience of my life. All of the staff at the National Museum of American History have been truly outstanding and very inclusive of interns as part of the team."
Responsibilities
Office of Public Programming
Plan distinguished lecture series
Design slate of programs to appeal to a broad spectrum of visitors
Department of Military History
Research and write object descriptions for battle flags of the American Revolution
Help Identify needs for new exhibits about the war in Iraq and Afghanistan
Work with the Uniform Project to re-house and catalogue uniforms from 1802-1914
Advice
Develop a clear set of goals and objectives for your internship. Make sure you can articulate what you hope to gain from an internship.
Start the application process early. Get as many people as possible to look over your resume and any essays the intern application may require.
Maintain a professional, but relaxed bearing.
Finally, Network – Network - Network. Once you get an internship, make as many future contacts as you can. Don't just show up to work and leave it at that. Build relationships and let people get to know you. And maintain contact with new acquaintances after the internship is over. Send a letter or email a few weeks after you leave to thank them for the opportunity to gain valuable experiences and let them know if you're interested in translating what you've learned into a career.
The University of North Carolina at Chapel Hill: The Louis Round Wilson Library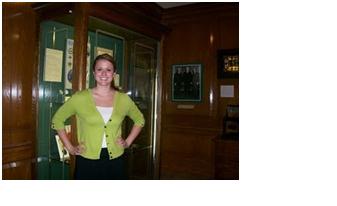 Intern: Allison Wonsick
"Learning the foundations of historic preservation and museum interpretation at Appalachian State allowed me to put the theory and methodology I studied in class into practice. Completing the internship in the summer between my first and second year of the program was an excellent way to put classroom and real-world experience into perspective. The small class sizes in the public history program allow students to get to know professors on a personal level. Often the advice received from professors who have museum and archival experience is as valuable as the theories learned in class!"
Responsibilities
North Carolina Collection: Gallery
Collection management; accessions
Exhibition development and installation
Project research in the Rare Book Collection and the Southern Historical Collection
Exhibit label writing; digital graphic design
North Carolina Collection: Photographic Archives
Sorted, identified, accessioned, cataloged, developed finding aid, and stored film negatives for the Hugh Morton Collection
Processed collection of thousands of photographic slides for the Hugh Morton Collection
Identified, sorted, classified slides for Morton's "Series 3: Nature & Scenic," now available as a digital finding aid on the UNC Libraries website
Advice
Be willing to take on any projects that your supervisor asks of you. Keep an open mind and positive attitude. You never know when one of those things you didn't expect to be doing turns out to be your passion!
Keep a daily notebook, calendar, journal, or log. If you don't write down everything you did each day, you'll start to forget key skills you're gaining and will want to include on a resume in the future. I actually kept a daily blog about my experience so I could share my activities with my professor, family, and friends. Now I refer back to the blog as a refresher on what I completed and learned. It's a great way to stay organized, too—you can even add pictures!
* Photo courtesy of Allison Wonsick